If you're anything like us, you're ready to deck the halls at midnight on Thanksgiving—and maybe a little before then! Today, we've got eleven holiday crafts for you that look so good, you'd never guess they were so easy to make. We've even got a few Hanukkah-themed crafts in the mix! Keep reading, because this is going to be fun, festive, and fabulous.
EASY HOMEMADE CHRISTMAS DECORATIONS
The holidays are our favorite time to break out the glue gun! Turn up the Rat Pack Christmas playlist, pour yourself a glass of vino, and soak in the holiday spirit with these fun and beautiful decor projects.
Mini Terrarium Ornaments – If you love the succulent and air plant trends, you'll be glad to know they're going strong into the holidays! Incorporate them into your Christmas tree with these adorable mini-terrariums. Pick up a package of fillable, clear plastic ornaments with front openings. Visit your local garden center or craft store to find mini-succulents or air plants (real or artificial—your choice!), and pop them into the ornaments. Space them out evenly around your tree.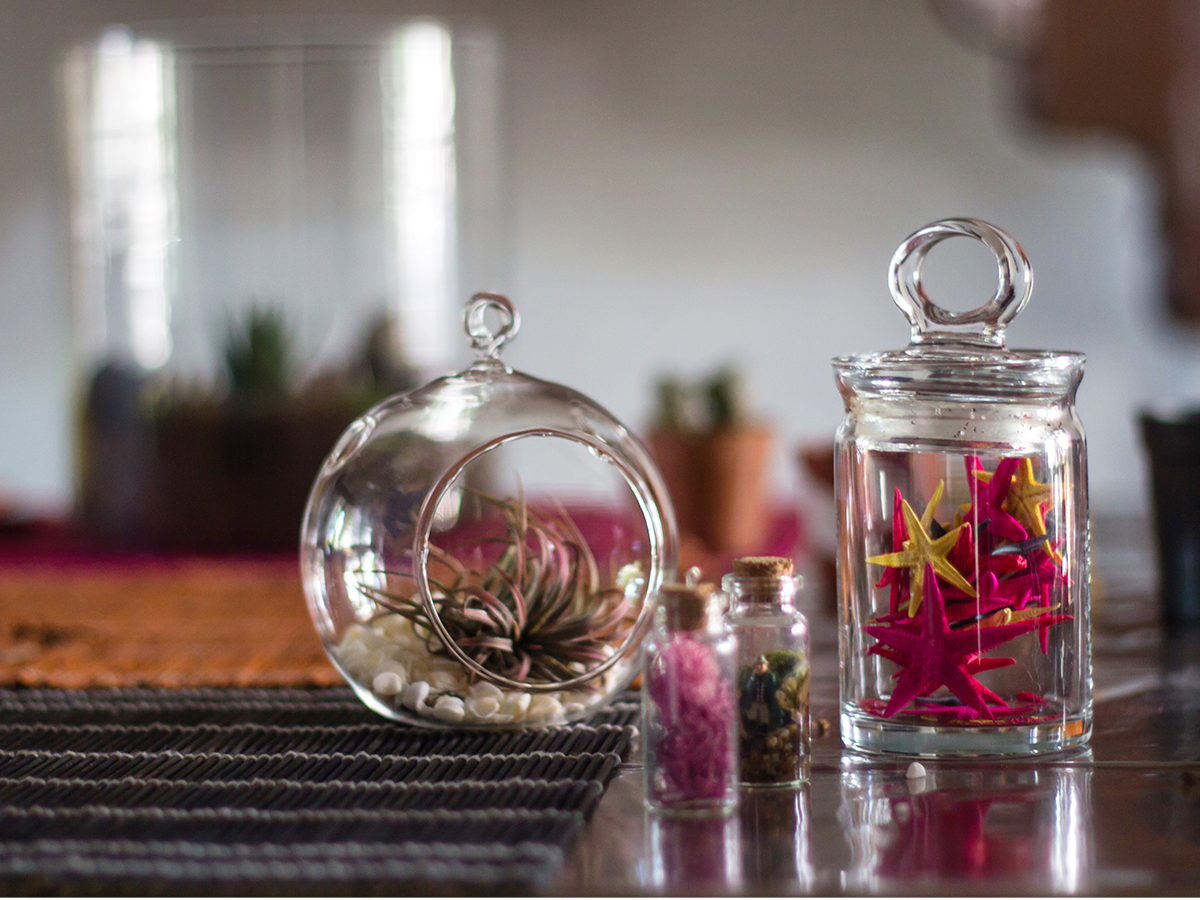 Mason Jar Lid Tree Decorations – These fun ornaments can be made as simple or as ornate as you like. Start with some basic twine, scissors, a yard or two of holiday-themed fabric, a glue gun, and some two-piece mason jar lids. Cut the fabric to the size of the flat disc piece of the lid and use the hot glue to cover it with fabric. For even coverage, apply a thin layer of glue around the top-facing edges of the disc and press the fabric on carefully. 
Next, apply hot glue to the inside rim of the threaded lid piece. Stick the covered disc inside with the fabric facing the inside rim. The rim will create a "frame" effect for the covered lid. Cut some twine, fold it in half, and hot glue the cut edges it to the side edge of the lid to make a hanger. Now, you can decorate your ornament however you like! You can write a festive message with glitter glue, or hot-glue more mini ornaments or fabric cutouts to your lid to complete the look.
Rustic Tree Decor – Love the rustic look? Create a nature-inspired Christmas tree theme using craft bird figurines, hot glue, black or green alligator hair clips, large pinecones, twine, and some burlap garland. 
First, create the bird ornaments by hot gluing the bird's "feet" to the top part of the alligator clips. This will allow you to clip on the birds so they "perch" on your tree's branches! Make pinecone ornaments by cutting a few inches of twine per cone, folding them in half, and hot gluing the cut ends to the flat end of the cone. If you like a little extra 'bling', you can dazzle them up a bit by dipping or brushing the ends with glitter or gold paint. 
Trim the tree with warm white LED string lights, wrap the tree loosely in the simple burlap garland, then evenly space out the pinecone and bird decorations to finish. For a fun matching tree-topper, consider drilling a hole in a basic birdhouse from the craft store and covering it in gold paint!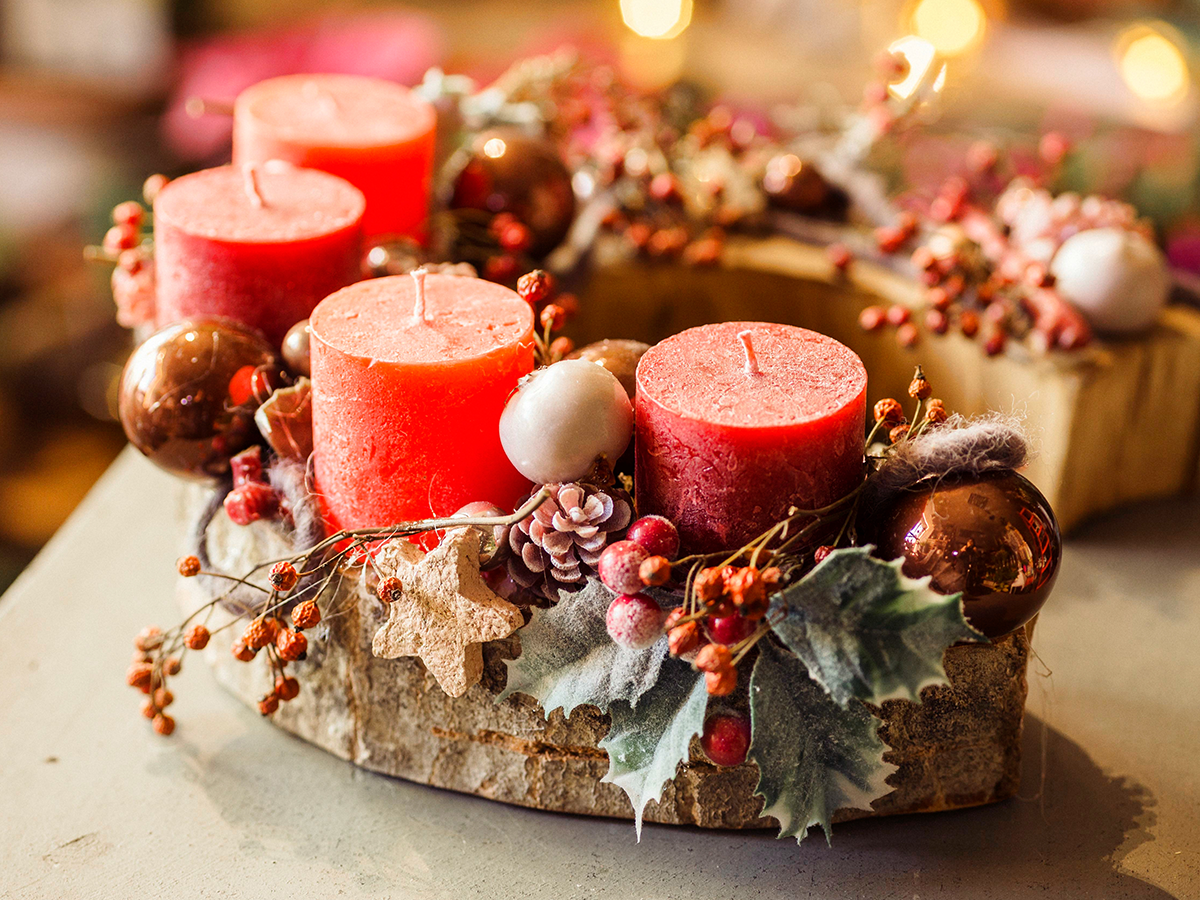 Holiday Candle Centerpiece – There are 101 ways to create this festive and fabulous craft. If you want to see how we do it, you and your favorite people can join one of our upcoming DIY Holiday Workshops. But, if you want to try your own version at home, start with a 5" or 8" square or circle piece of wood, some hot glue, a pillar candle, and a bunch of your favorite holiday greenery. 
First, hot glue the candle to the center of the block of wood. Then, lay down your greenery around the candle, hot gluing each piece down. Lay the longest pieces first (they should be long enough to drape slightly over the edge of the wood), then apply a layer of slightly shorter pieces overtop. Add shorter and shorter layers until you're happy with how it looks. To finish, you can add a few mini glass ornaments, pinecones, or artificial holly berries with a few more dabs of glue.
EASY DIY CHRISTMAS DOOR DECORATIONS
The holidays are knocking at our door, so why not greet them properly? Try one of these  simple and elegant door decor projects.
Grapevine Wreath – Most craft stores nearby carry grapevine wreath "bases", which make an easy and modern shortcut for gorgeous wreaths. Choose the size you like and some artificial greenery to adhere to the wreath with hot glue. A simple theme with one or two colors, one type of greenery, and two to three "accent" items is all you need. For example, you can use artificial spruce for your greenery, and accent with artificial berries, glass ball ornaments, and ribbon in your chosen theme color. 
Tuck and glue your greenery into the vine first, securing with hot glue, then wrap the ribbon around the wreath. Fill in the spaces with your accent items. You can create a focal point with a cluster of ornaments, a ribbon bow, or whatever accent item suits your fancy!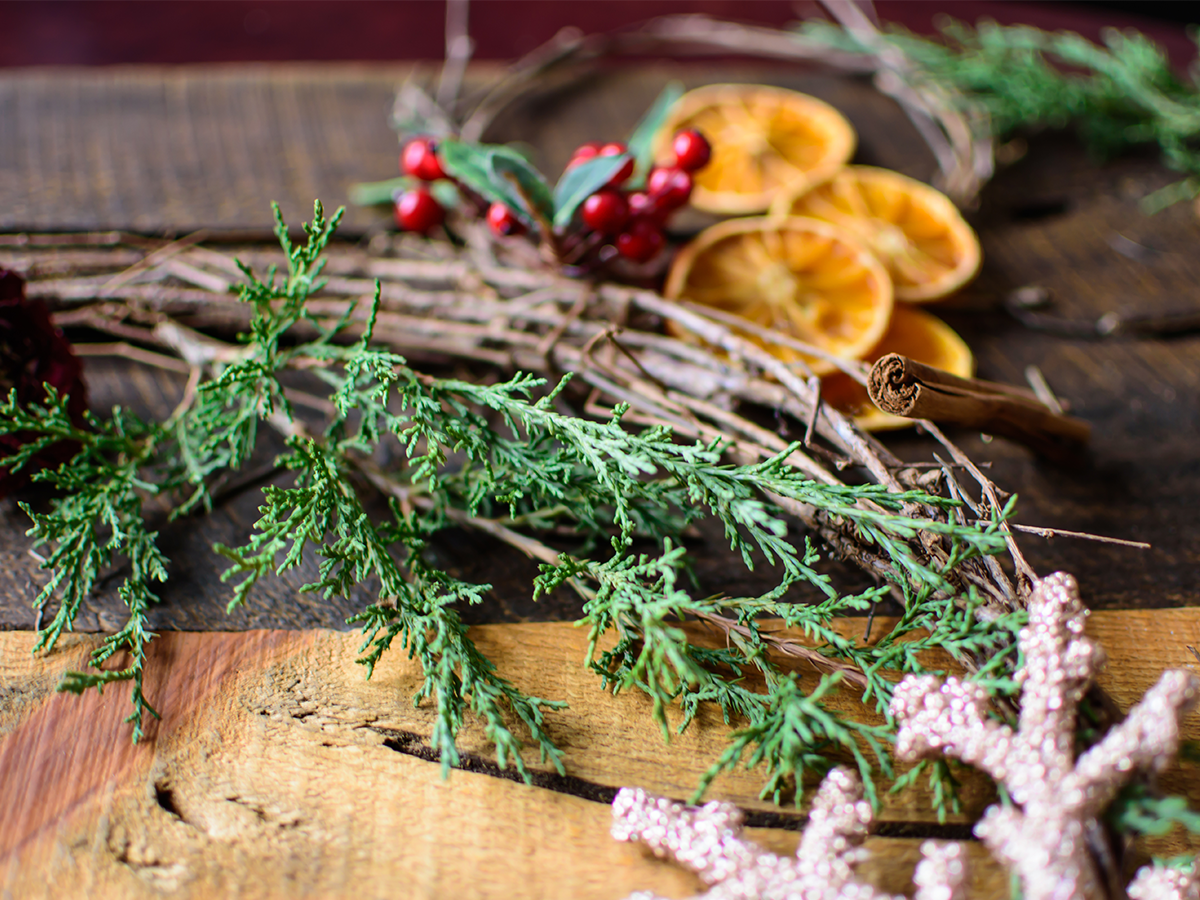 Gift-Wrapped Door – If making a wreath sounds like too much fuss for you, this door decor is easy as it gets! Get a roll of gorgeous holiday ribbon and a large, coordinating gift bow. Cut two pieces of ribbon—one slightly longer than the height of your door, and one slightly longer than the width of your door. Tape the first piece to the front of your door running lengthwise, either dead-center or slightly offset, securing behind the door frame. Tape the other piece widthwise, either centered or offset a foot or so above the door handle. To finish, simply use a piece of heavy-duty tape to affix the bow to the ribbon where the two pieces intersect. Now you can really tell guests their "presence is a present"!
Basket of Evergreens – For a wreath alternative that's a little simpler than the grapevine project but more ornate than the gift-wrap, try filling the base of a handled, flat-back wicker basket with a piece of floral foam and tucking in cuttings of real or artificial greenery. You can pepper in winter berries, pinecones, and any other ornaments if you like. For an extra special touch, you can also hot-glue some ribbon around the basket and decorate the center with a pretty bow. Use a wreath hanger to hang your basket on the door.
DIY CHRISTMAS DECORATIONS FOR KIDS
Kids love Christmas more than anyone! These kid-friendly holiday decor projects are loads of fun without being too gaudy.
Mini-Christmas Trees – A trend for the 2019 holiday season is to decorate with multiple mini-Christmas trees in addition to the main family tree. This is a perfect opportunity to let each of your children decorate their own tree. Either supply them with a box of ready-made ornaments to decorate with, or let them go wild with a craft bucket of pipecleaners, pinecones, popsicle sticks, tinsel, and (if you trust them enough!) glitter. 
To pull everyone's trees together, have everyone in the family decorate the main tree together with some of their favorite ornaments or their own homemade ones.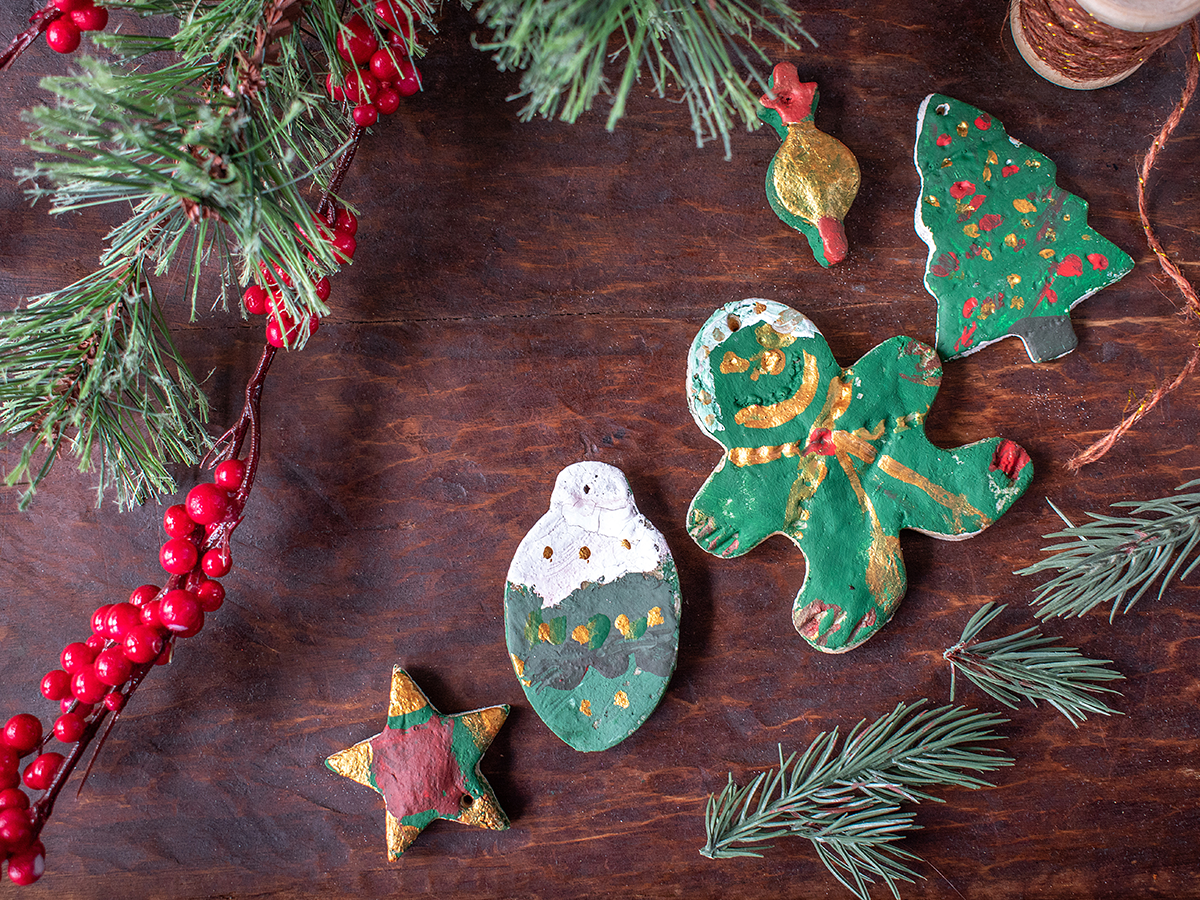 Cinnamon Dough Ornaments – This multi-sensory craft is lots of fun for kids, and it adds a lasting cinnamon aroma to your tree. However, before embarking with this craft, make sure your kids are old enough to understand that the dough is NOT edible—even if it smells delicious! 
Combine 1 cup of flour, ½ cup of salt, 6 tablespoons of cinnamon, ½ teaspoon each of cloves and nutmeg, and ¾ cups of warm water. Knead the mixture into a dough. Line a flat surface with waxed paper and roll out the dough. Let kids use holiday cookie cutters to cut out their favorite shapes. 
When they're done, poke a hole in the top of their ornaments with a nail or drinking straw before letting them dry on a wire rack for 24 hours. Once the ornaments are dry, you can hang up the ornaments as-is by stringing twine through the holes. Or, you can let kids paint them with acrylic paints (spiked with a little extra cinnamon!) before hanging them up.
DIY DECORATIONS FOR HANNUKAH
If you're more blue-and-white than red-and-green, these stylish and modern Hanukkah crafts will be a welcome addition to your holiday decor.
Rustic Star – We love this pretty and modern Star of David craft. You can either pick up a pre-made wooden star from the craft store or make your own with six equal-length sticks. If you make your own, use twine or rubber bands to connect the ends of three sticks at a time, forming two triangles. Then, arrange them overtop of each other in a star shape and secure with more twine. 
Decorate with delicate greenery—like eucalyptus, mistletoe, or juniper cuttings. Secure the greenery to the star frame with fine wire.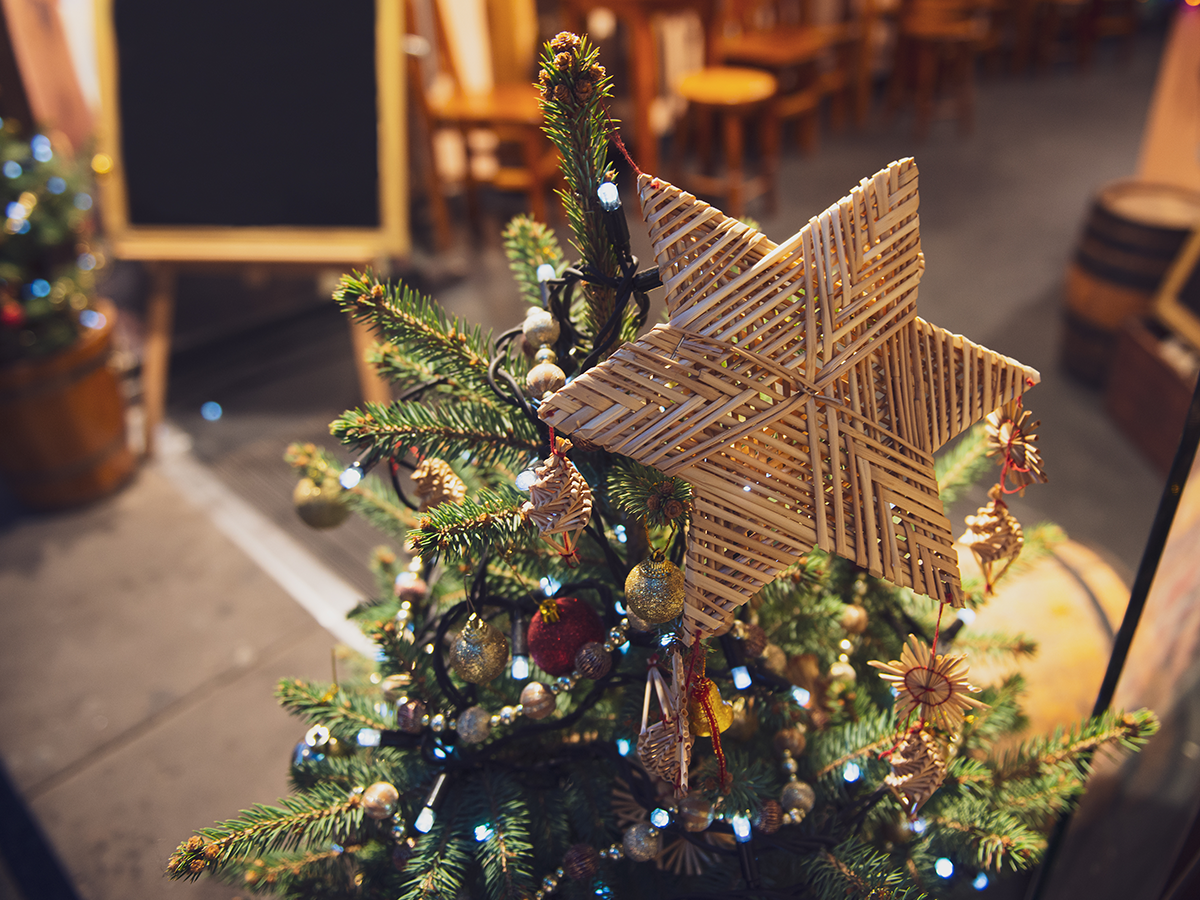 Felt Garland – Want to add a little extra shine to your mantel, table, or window dressing? Pick up some plastic coins with a shiny finish and hot glue them back-to-back over long strands of shimmering gold cord. You can hang the garland anywhere you want a touch of seasonal glam.
Can't get enough holiday crafts? We have so many more ideas where they came from! Why not host an interactive holiday workshop at your house for family or friends? We're happy to make house calls anywhere in the Finger Lakes Region—because making memories together is really the best gift of all!