Now that it's October, it's the perfect time to schedule THE quintessential fall date: a trip to the pumpkin patch. Who doesn't want to galavant around in their coziest flannel, sipping hot chocolate and picking out the perfect pumpkins to bring home? Of course, it's easy to get carried away and suddenly find yourself with a miniature pumpkin patch of your own. So, what can you do with all those pumpkins? 
Let's get real—who really has time to carve more than one pumpkin, other than that one neighbor who started decorating for Halloween on September 1st? Lucky for you, we put together this fun collection of ultra-creative, super-easy, and absolutely gorgeous pumpkin crafts to try this year.
WALLPAPER PUMPKIN
What we love most about this gorgeous craft is how you can totally transform the look of your pumpkin without having to cut into it at all!
Supplies: Pumpkin (real or craft), a few square yards of your choice of wallpaper OR fall-themed napkins, mod podge, a paintbrush, and a craft knife.
First, protect your work surface with newspaper or trash bags (ain't nobody got time for chipping away at dried mod podge).
If you're using napkins, separate the plies so you're only using the top ply with the print. If using wallpaper, cut into strips or cut out large motifs to use as decals. 
With the paintbrush, coat the pumpkin in a thin layer of mod podge and either cover the entire pumpkin in paper or place motifs to your liking all over the pumpkin. Smooth out with your fingertips. Use the craft knife to carefully trim away excess paper around the stem. Then, let dry for twenty minutes before coating with a second layer of mod podge to seal.
PUMPKIN LUMINARY
We know what you're thinking; isn't that basically a jack-o-lantern? Nope! These lazy-lanterns require just a few moments of carving and look truly elegant. 
Supplies: Pumpkin (real or craft), a small serrated knife, floral foam, a ballpoint pen, tall glass votive candle holder, a votive candle, and an artificial fall garland.
Turn the votive holder upside down over the pumpkin stem and trace the circumference with the ballpoint pen. With the knife, carve out the outline of the votive and remove the top. This should create a snugly fitting hole for the votive.
Insert floral foam if desired to prop up the votive holder for added height, until the votive is sits about ⅓ deep into the pumpkin. 
Wrap garland loosely around the votive, allowing it to rest on the pumpkin. You may want to pin or hot-glue it in place.
Light the votive, drop it into the candle holder, and you're done! You can easily make several of these to line your porch stairs and light the way for trick-or-treaters.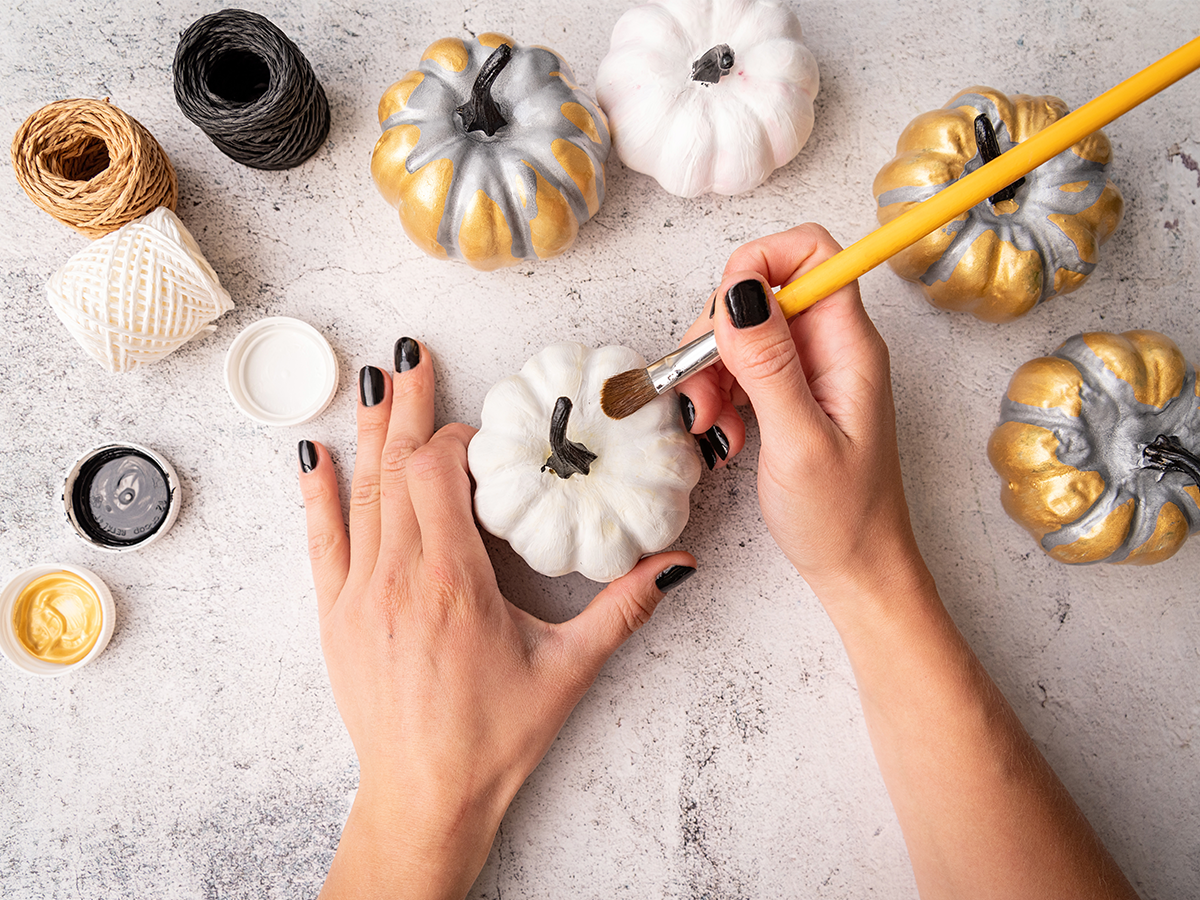 PUMPKIN VASE
We love flowers, so of course we love this gorgeous idea for a festive fall arrangement!
Supplies: Pumpkin (real or craft), flower bouquet (fresh cut or silk), and a serrated knife.
Around the stem of your pumpkin, carve a hole large enough for your bouquet. Remove the top and insert flowers, rearranging as needed. Depending on the height of your pumpkin, the stems in your bouquet may need to be trimmed with clean, sharp shears.
PAINTED PUMPKINS
Why carve when you can paint? Get creative with colors that match your decor scheme, or add some metallic accents for fun!
Supplies: Pumpkin (real or craft), mod podge, at least 2 paintbrushes (one for mod podge, the others for painting), and your favorite acrylic or metallic paints.
Protect your work surface before getting started. Coat the pumpkin in mod podge with the first paintbrush and allow to dry completely for 24 hours. Remember to clean the paintbrush well after using it for mod podge, if you ever plan on using it again!
The next day, use the other paintbrush (or paintbrushes) to paint on your design with your acrylic paints. If you're having trouble thinking of ideas, try a "dipped" two-tone style, or a "drip painted" look with a neutral base colour and a metallic or contrasting colour pooled around the stem until it drips down the sides.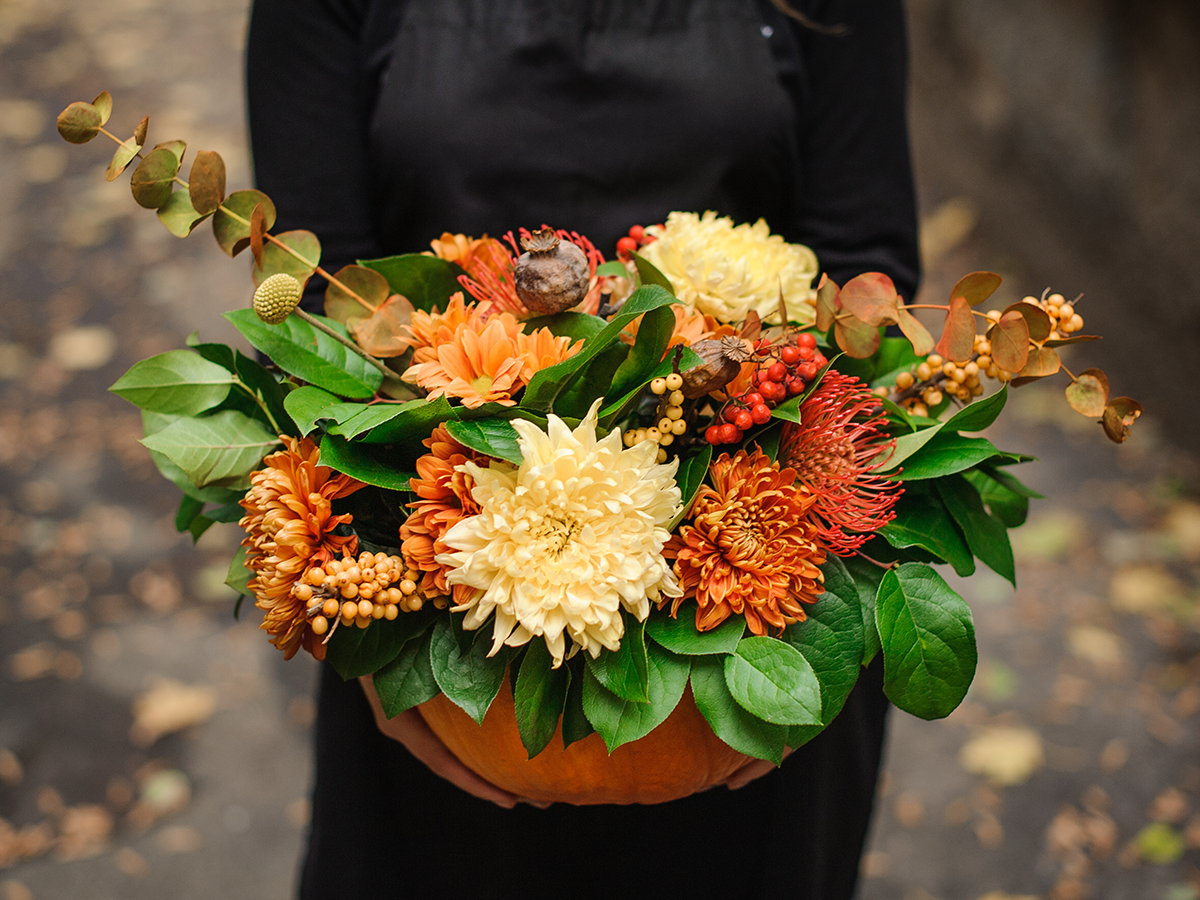 PUMPKIN WITH FLORAL APPLIQUE
Another floral-themed craft—can you tell we love plants yet? This 3D design adds unexpected texture to your pumpkin and looks amazing as a centerpiece.
Supplies: Pumpkin (real or craft), craft pins, and flowers (real or silk).
Pin flowers into the pumpkin flesh. You can cover the pumpkin in flowers or arrange them in pretty shapes or patterns. This craft looks even more stunning with a painted pumpkin that contrasts with the color of your blooms. Only use fresh flowers if you plan to make this pumpkin for a one-day event, though, because they won't last!
PUMPKIN WINE DISPENSER
The cheekiest craft of the bunch—and we love it! This is the perfect wine server for your Halloween party.
Supplies: Large pumpkin, a box of wine, a serrated knife, a chalkboard label, and chalk markers (optional).
With the knife, cut off the top of the pumpkin and scoop out the guts. Cut a hole 3 inches from the base of the pumpkin, making sure it's large enough to fit the spout for the bag of wine. Remove the wine bag from the box and carefully insert the bag of wine, easing the spout through the hole and arranging it so guests can easily serve themselves. Put back the "lid" you cut off the pumpkin.
If you want, you can use the chalkboard label and chalk markers to write a fun, spooky message overtop of the spout, like "Happy Hallowine". You can also use them to label different wines if you plan to serve several "pumpkins".
No offense to Jack Skellington, but we think these crafts are so much cuter (not to mention easier!) than the typical carved versions. Best of all, you don't need to follow any tricky instructions to make these festive treats. Try them yourself—you may never want to carve up another toothy grin again!